Reclaimed Cobblestone Pavers
---
Step into a world of history with Reclaimed Cobblestone Pavers, showcasing a rich, timeless past harvested from old streets in America or charming European villages. These weathered treasures boast a worn patina, subtle colors, and textures that eagerly tell stories waiting to be preserved and shared for generations.
Sizing
The size and shape of Reclaimed Cobblestone Pavers are instrumental in determining the design or layout.  For example, achieving the classic running bond pattern is easier with rectangles, while squares and cubes offer more flexibility in design and are more suited for fan type patterns.
Thickness
Full Bed - approximately 5"- 8"

Half Bed - approximately 2.5"- 3.5" ( European Only )

Sliced - approximately 1.25"- 2.25" ( European Only )
Thickness is primarily determined by both the installation method and type of use. A full bed cobble might be more suited to a dry-laid motor court, whereas a sliced cobble might be the perfect fit for a walkway set in a mortar bed. Sliced cobbles have also been use on interior projects for beautiful antique stone flooring.
Cobblestone Types
Cobblestone come in all different shapes and sizes, from a standard Rectangluar format to large cubes. Below you will find all the different options we currently have along with limited offered blends. Please be sure to fill out a quote form if you are particularly interested in a specific blend avalibilty and price range.
Regulation Cobblestone
Regulation Cobblestone pavers are typically salvaged from historic city streets and sidwalks across the Northeast. This unique material offers a captivating range of colors, from weathered grays to earthy tans. With a warm patina and time-worn texture, it exudes timeless elegance that sets it apart from new materials. For more information on current blend and avalibility please fill out a quote form or call our office to speak with a sales representative.
Specifications ( Approx.)
Dimensions - 8" L x 4.5" W x 5" T
Pieces per sqft - 3.2
Weight per piece - 18 lbs ( 58lbs/sqft )
Jumbo Cobblestone
Derived from the same regions as our Regulation cobblestone, Reclaimed Jumbo cobblestones are sourced from historic cities across the Northeast. Jumbos are the largest cobblestone format which is most apparent in their thickness. They are generally a mix of beautiful grey and tan hues, along with a pleasing worn smooth top, they are ideal for creating impressive driveway aprons and are frequently chosen for edging, thanks to their taller height.
Specifications ( Approx.)
Dimensions - 10-14" L x 4-5" W x 8" T
Pieces per sqft - 2.5
Weight per piece - 35 lbs ( 88lbs/sqft )
Antique European Cobblestone - Porphyry
Belgian Porphyry is referred to as "the Belgian block" and is known for its exceptional hardness and durability. These stones were incredibly fashionable during the 19th and early 20th century and were commonly used in well-known city centers of affluence including Champs-Elysées in Paris, various New York City Avenues and Saint Petersburg in Russia. These cobbles offer beautiful combinations of coloring; green-brown, brown-rusty, green-blue, rusty-red and blue. Shapes include both squares and rectangles. ​
Specifications
Color
Greens, blues and earth tones
---
---
Thickness
Full bed 6-7", Half bed 2.5-3.5",
Thin cut 1.25-2"
---
---
Antique European Cobblestone - Sandstone
Belgian Sandstone is a very hard and resistant sandstone cobble quarried in the 18th, 19th and 20th centuries in the Walloon region of Belgium. This cobblestone offers a generally smooth and well-worn top face. Colors vary from brown over grey to earthy green as well as lavender. Colors in cobblestones contained within a specific batch offer similar characteristics.
Specifications
---
Thickness
Full bed 6-7", Half bed 3",
Thin cut 1.25-2.25"
---
Surfaces
Antique and Flat
---
Color
Beige, Okra to Plum tones
---
---
Limited Cobblestone Blends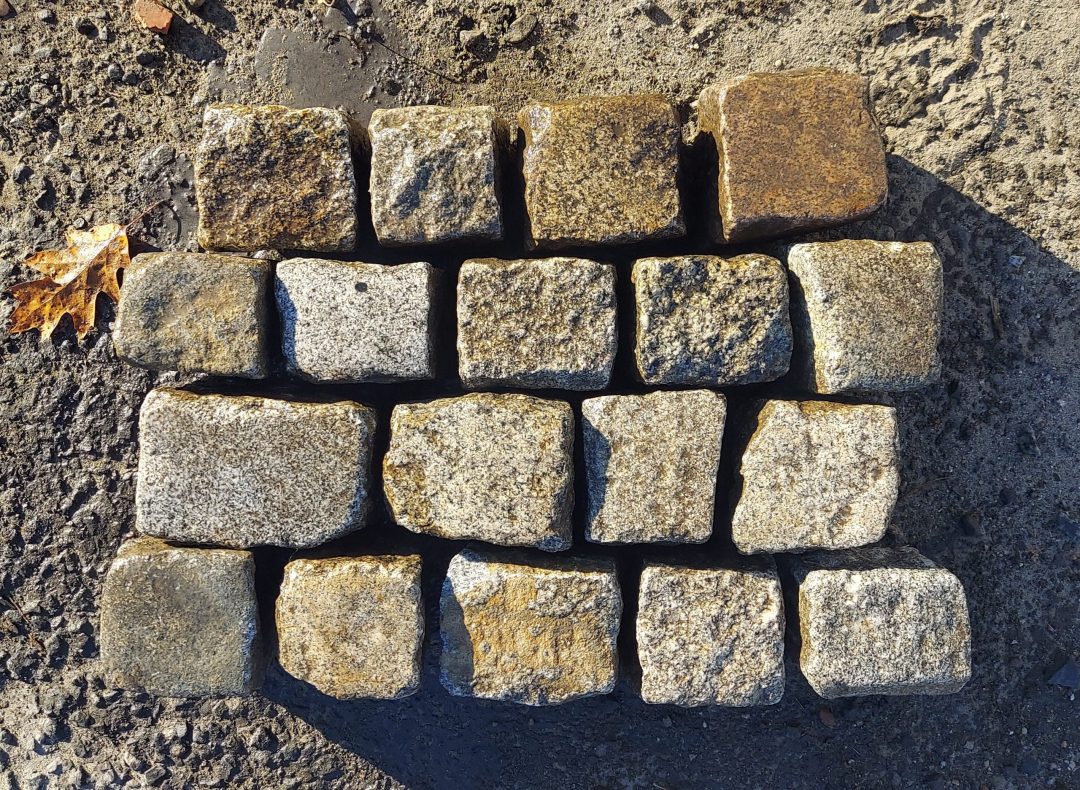 Small Cubes
This beautiful mix of small cubes and Rectangles have been curated from the surrounding areas of Manhattan. Expect to see a wide range in both colors from light/dark greys to warm tans, and textures. Most pieces have a nice smooth top while others are slightly more rough.
Dimensions - 3-5" x 3-5" x 4-6" Please contact us for avalibility.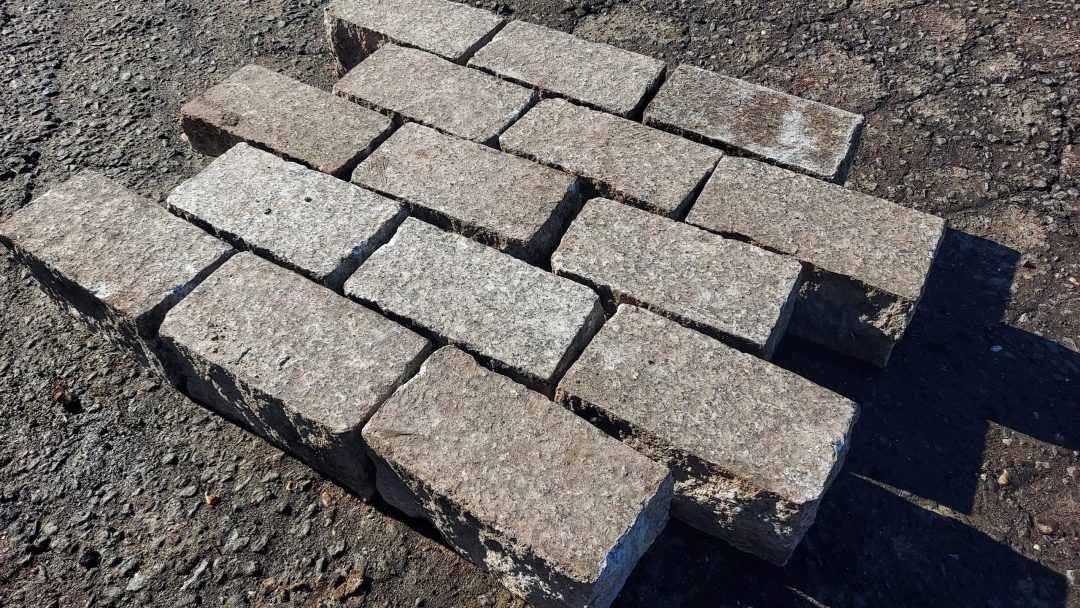 Chelsea Cobblestone
Salvaged from the Chelsea waterside park in Manhattan, these unique cobbles have a nice consistent dimension and color. The tops were originally thermaled then foot worn for 30+ years.
Dimensions - 8" x 4" x 4" Please contact us for avalibility.
Barnum Cobblestone
Reclaimed From P.T Barnums Estate these are truly special cobbles. These are larger Cubes with a wide range of sizes. As seen from the photo above they have a beautiful color and worn tops.
Dimensions - 6-8" x 6-8" x 6-8" Please contact us for avalibility.
Grey Cobblestone Cubes
Generally we see a wide range of colors with reclaimed cobbles, these on the other hand have a surprisingly consitant grey throughout. Origninally from Hoboken New Jersey these beautiful Cubes have recently landed here at the farm. There will be a consistent grey color range throughout but please be mindful of the variation is sizes.
Dimensions - 5-7" x 5-7" x 5-7" Please contact us for avalibility.
Sandstone & Porphyry
Dry vs. Wet
Antique cobblestones can look very different when they are dry or wet. Wet cobbles tend to show off the color variations more, as well as the beautiful sheen and patina of the reclaimed stone.
On both of these pictures, the Sandstone cobbles are on top, with the Porphyry cobbles on the bottom, but on the left they are dry vs. on the right they are shown wet.
Now that you are informed on the different types of reclaimed cobblestones pavers, visit our Project Area section to see how this material is applied in recent designs. 
From full cobblestone driveways to cobblestone driveway aprons, reclaimed cobblestones can change an ordinary project into something truly unique!