Antique Bluestone Sidewalks & Sandstone Slabs
---
In the mid-1800s, bluestone was the material of choice for the vast network of sidewalks in Manhattan and other large cities of the Northeast. Although today much of this stone has been replaced by materials that make a smoother surface for our modern lifestyle, reclaimed bluestone and sandstone sidewalk slabs make beautiful walkway and patio stones. We search high and low to salvage this historic product and make it available for a new generation to enjoy its beauty in their classic landscape design.
Bluestone vs. sandstone
Both bluestone and sandstone make durable flat surfaces with rich, natural tones. These smooth, flat materials are our best options for dining and seating areas as well as rustic pathways.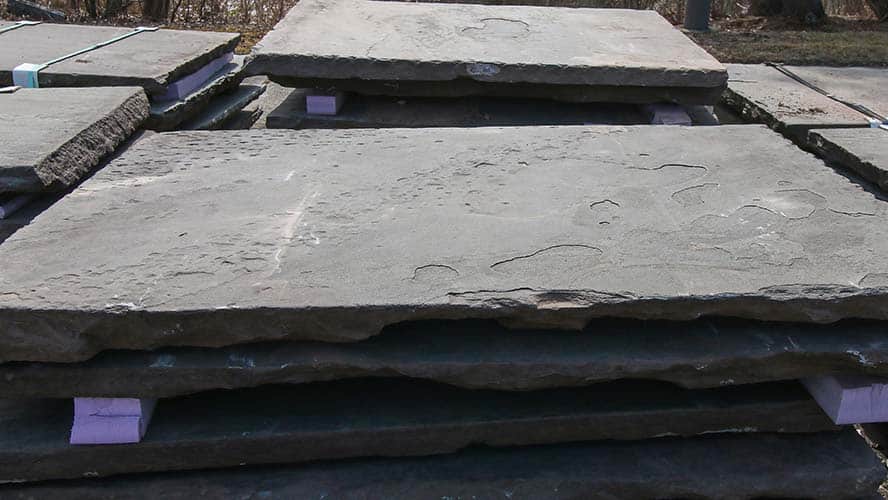 Bluestone sidewalks
Originally quarried for the most part in New York, we salvaged our antique bluestone from sidewalks in Pennsylvania and New Jersey, bringing the deep blue and grey tones of this classic material to our yard in Monroe, CT. Whether you want classic, modern or rustic design, this historic paving stone will bring richness and depth to your backyard landscape design.
details:
Color - Light and dark — blues, greens, and lilac
Surface finish - Worn natural cleft
Dimensions - Generally 36 - 72" L x 16 - 48" W x 2-4" thickness (inconsistent throughout each piece)
Source - Northeast
sandstone sidewalks
With an equal historic pedigree, the warmer beige tones of these sandstone sidewalk slabs salvaged from Ohio and Pennsylvania neighborhoods come in game-changing sizes. The walk worn finish and lighter colors make perfect "modern rustic" pool decks or sprawling outdoor dining areas. From rustic to refined, sandstone adapts well with many designs.
details:
Color - Blues, greys, warm beiges and tans
Surface finish - Walk worn surface
Dimensions - Generally 20 - 84" L x 20 - 48" W x 2-4" thickness (consistent through each piece)
Source - Midwestern United States to New England
Colors & texture
Our bluestone and sandstone sidewalks provide the flattest surface of all of our reclaimed paving materials—perfect for pathways and patios where furniture sits.
bluestone
worn to perfection
From rich greys to deep blues, our antique bluestone works beautifully for patios that range from elegant to rustic. The familiar natural cleft texture has been foot worn over time to a smoothness that feels historic from the moment they're laid.
sandstone
smooth & even
Our reclaimed sandstone slabs have warm beige tones and a sandy texture that has been worn to perfection. These slabs tend to have a consistent thickness that makes for easy installation and level surfaces.
size & scale
Antique bluestone and sandstone are available in large sizes which are difficult to find with modern quarried stone.
large format
While new sandstone is currently being quarried with a smaller format, our super sourcers have salvaged an amazing supply of 4' x 6' reclaimed sandstone slabs. We continuously scour the U.S. to make sure we can always provide these uniquely large sizes.
Visit the Stone Farm to experience these and other Ginormous Stones™ in person.
bluestone & sandstone projects
Visit our Patios & Pathways Project Area to see our antique bluestone and sandstone slabs in landscape designs. From winding bluestone pathways to "modern rustic" patios, these materials bring the weight of history to any project.
Contact us to get a quote on your own Bluestone or Sandstone project or to get a closer look at this beautiful reclaimed material.